Datacloud Europe 2018 and Awards launches as VR, AI, IoT, 8K drive both scale and Edge forecasting huge demand
1 min read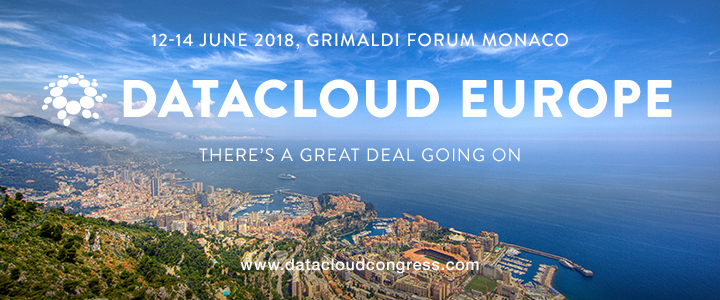 04 October 2017 – BroadGroup, the organisers of the premier forum and awards, Datacloud Europe, are delighted to announce the launch of the 2018 congress to be held on the 12-14 June at the Grimaldi Forum in Monaco.
Datacloud has established itself as Europe's only must-attend data centre and cloud business forum and expects more than 2000+ senior executives at their 15th annual event.
The conference attracts senior data centre and cloud leaders and executives, their customers and investors from more than 160 countries. It is recognised for providing outstanding deal making and networking opportunities, deep content and a unique annual forum for enterprise end-users looking to deploy IT assets in Europe and internationally.
Top level international speakers will be presenting an enterprise driven programme across three days. This will include insight and intelligence as well as the latest findings based on original BroadGroup research.
"2018 in Monaco will be larger than ever," commented Gregory Gerot, vice president and managing director of BroadGroup, "primarily because a surge in market drivers is creating unprecedented demand from enterprises for colocation, cloud services, hyperscales and edge computing. In addition the annual international Awards ceremony in the spectacular Monte Carlo location showcases the best standards and practice in data centre and cloud companies."
The 11th Datacloud Awards gala dinner will include new award categories for 2018 to be announced shortly.
"As the premier event in the sector for the region, Datacloud Europe 2018 is set be extremely exciting, uniquely including the presence of investors, end customers and the leadership of businesses in the sector and reveals again a high value event that offers our customers significant business contacts and an authentic experience, in one of Europe's most spectacular locations on the edge of the Mediterranean," said Philip Low, chairman of BroadGroup.
Registration for the event with the traditional Super Early Bird offer, exhibiting, sponsor and speaker opportunities are now all open.
About BroadGroup
BroadGroup is an Information Media Technology and Professional Services provider and a member company of FTSE 250 Euromoney Institutional Investor PLC. Established in 2002, the company has achieved recognition and growth through delivering quality research and events across the IT infrastructure sector. Its Data Centre and Cloud practice is the market leader in providing commercial due diligence, research and analysis for the sector. The company's event portfolio brands include Datacloud, Datacloud Awards, Finance and Investment Forum and Dark Fibre Convention which deliver high quality international networking and business opportunity events. The company also owns the leading online information source, magazine and specialist forum Data Economy.
www.broad-group.com   www.data-economy.com
Enquiries: enquiries@broad-group.com