Excel: An Underused Tool
2 min read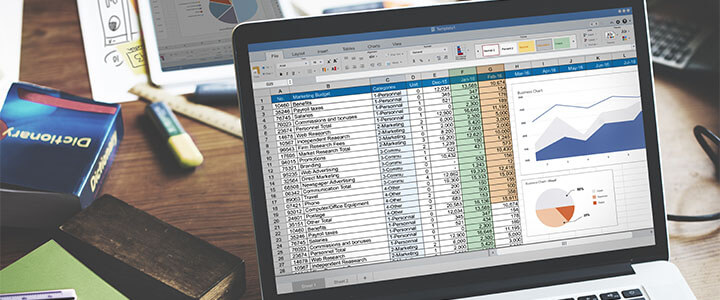 Nowadays, Information Technology has become one of the most fashionable industries in the world. Not only that, but the inclusion of IT in the processes of companies has become essential.
The correct use of software and technology can speed up orders and service, and allow for a more efficiently run business. It can also help cut down on high costs from employees and save you money on expenses like heat, electricity and raw materials.
Yet, many people overlook one of the most basic and low-cost software available for businesses.
Excel is one of the most versatile and comprehensive software templates available. Not too long ago, the majority of software was based on Excel and its functions. This is due to the multiple functions and a wide range of inputs that can be taken advantage of in the software.
This means Excel can be a key player in making your business more streamlined and efficient with a little knowledge on how it works.
This also means it should be a mainstay for any small or medium enterprises that can't afford to hire an IT firm or staff to handle their demands. It also eliminates the need to spend a lot of money on a bunch of different pre-made software packages.
Below, we outline a few specific ways that using Excel can help your business. We also recommend a few ways you can find out how to use Excel to fully reap all of these benefits.
How Excel Can Help Your Business Innovate and Succeed
As mentioned above, Excel offers a great software that can help you develop a number of functions to help your business. All for a low cost too. While some of the methods mentioned below may need some practice to get right, most of them can be learned in a day or two. With that said, here are a few ways Excel can help your business.
By Automating Orders and Background Processes
One particularly common use for Excel, and one which is simple to master is automating orders. If you run a business that depends on the sale of goods, stock management is key.
Excel can almost completely automate this process by using its IF and VLOOKUP functions and conditional formatting to illustrate which stock is too low or high. With some additional features purchased, you can even make it so that Excel will automatically email suppliers to order more of a certain stock, or cancel others.
This allows you to place less time on employees managing stock and more on customer service.
By Helping with Market Research and Segmentation
A particularly innovative way of using Excel is as a marketing aid. The use of polls and surveys have become more common in business nowadays. This is particularly true of businesses in the service industry.
Excel can help turn the information from surveys or polls into actionable data. Many online forms can be directly transferred to excel spreadsheets. This means that you can separate responses by age, gender, attitudes, and preferences. This can help you know who to target during your next marketing campaign and why.
This can be extremely helpful for marketers, who can often need time to determine which audience gives the best response to certain campaigns for businesses with a broad audience.
By Empowering and Upskilling Workers
An often underrated impact Excel can have on a business is the one on its workers. While Excel is simple to learn, its functions can have a wider range of uses if applied creatively.
The internet is filled with excel templates. Created by those who've experimented with using different Excel functions. Even for different businesses.
So, including the use of Excel into your workforce, training your employees how to use it, and encouraging creativity can foster a creative workforce. This can help your business innovate and stay ahead of the competition.
Diverse data aggregation
In some businesses, you'll need to collect data from a range of different points. A good example of this is health and fitness.
Personal trainers may need to collect information on heart rate, stress, fat intake or even weight. Logging these in Excel can help give a good overview of your service and how people are responding to it. It can also track changes over time to give you an idea of whether your service is giving the desired effect. This can all help you develop your product further and progress your business.