ICT SPRING 2019: FinTech Summit
4 min read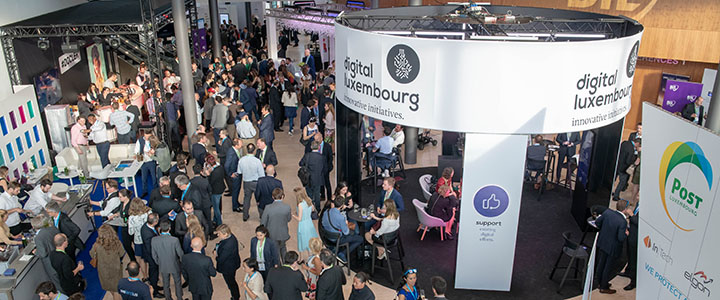 Luxembourg, March 12th, 2019 – A new edition of ICT Spring will be held on May 21st & 22nd , with more than 30 experts sharing their knowledge and discuss the latest FinTech trends. ICT Spring, a two-day event created in 2007 aims at facilitating the meeting of minds, encouraging emulation and networking with industry leaders, will take place at the European Convention Center Luxembourg, at the very heart of Europe. Today, the organizers are announcing an impressive list of international speakers, companies and innovative startups, who will take part in the event. This edition will include convergence sessions between the different summits: AI, Digital, FinTech & Space. Xavier Bettel, Luxembourg's Prime Minister and Pierre Gramegna, Luxembourg's Minister of Finance will also participate and share their views on the government's strategy and Luxembourg's ambitions in today's (Fin)Tech Europe.
Digital technology has dramatically changed the way clients interact with banks – and vice versa -, forcing them to evolve from traditional banking operations to online-based services. Therefore, banks have to rethink and reinvent the way they are operating and find innovative ways of extracting value out of customer's data. This can include co-existing with non-banking services to attract customers, co-developing new experiences, and much more. In order to discuss the latest FinTech trends, the organizers have brought together FinTech experts from all around the world who will share their expertise and latest innovations next May.
FinTech beyond the 360 Approach
On May 21st , KPMG will officially open the FinTech Summit and act as Master of Ceremony of this morning conference. Chris Skinner (Author, Speaker and Troublemaker) known through his blog "The Finanser" but also for being one of the most influential voices in FinTech, will share his knowledge with a presentation entitled 'Is it FinTech or TechFin?" Indeed, FinTech has been all the rage the past few years, gathering billions of dollars of investment and spawning a wide range of unicorn start-ups, but what if it's all wrong? Alibaba's Jack Ma prefers the term TechFin, as he believes "it is wrong to put finance first'. According to him, it should be technology first. What's the difference in these points of view and what does it mean to your bank's strategy?
Claude Marx (General Director, CSSF) and James Chou (Managing Director & CEO, Microsoft for Startups for Greater China, Japan & Korea, Chair of Technology and Innovation Committee of American Chamber of Commerce) have also confirmed their participation through a keynote speech. Carlo Thelen (Director General, Luxembourg Chamber of Commerce), will give insights about the position of Luxembourg in today's world of modern technology before introducing the official talk of Luxembourg's Prime Minister Xavier Bettel. This first morning will end with a speech from Luc Julia (Vice President of Innovation & CTO, Samsung Electronics) about the fact that "AI does not exist". Being the co-creator of Siri and known as one of the fathers of artificial intelligence, he will share his views that AI will be able of creating something that does not exist yet. Luc Julia will notably talk about an algorithmic revolution that surpasses the pure frame of mathematics and blends all fields together to really innovate and break the rules.
New Banking Generation & Payments
Fintech has made some of the biggest inroads in areas big banks have shunned since the financial crisis. Lack of trust in established companies created space for start-ups that are often leaner, thanks to use of technology. These new FinTech companies have made serious competitive inroads in areas banks have backed away from, and billions of dollars in venture capital money has followed.
This first afternoon will be divided into three key topics: "New banking generating, "A GameChanger in Payments" and "Discover FinTech hubs across Europe". Startups will have the opportunity to pitch their innovative solutions during a session called "Skyrocket your Business: 30 minutes of innovative ideas". Duena Blomstrom (Author, Keynote Speaker, Creator of Emotional BankingTM, @Forbes Writer, Co-Founder & CEO PeopleNotTech), will explain why the new banking generation is more about people and not technology. If big organizations, especially banks, want to take advantage of fast-paced technology and deliver addictive experiences to the consumers, they must embrace new agile ways of working and new ways of thinking. In other words, they must focus on how to make their people feel psychologically secure enough to exhibit knowledge, courage and passion. In her book "Emotional Banking ™ Fixing Culture, Leveraging FinTech and Transforming Retail Banks into Brands", Duena Blomstrom tells the story of having arrived at the realization that people's feelings about their money were not investigated and her quest to explore why banks haven't done so…yet!
Benoit Legrand (CEO, ING Ventures & Chief Innovation Officer, ING), who's responsible for Fintech at ING but also for developing the bank's strategy towards innovative financial technology companies, and Douglas Feagin (President of International Business, Ant Financial Services Group), in charge of spearheading the company's globalization strategy, as well as Alipay's international business development, operations, and marketing activities, are already among the confirmed speakers. LUXHUB, a Luxemburgish company created by 4 major banks and aiming to provide an innovative answer to the upcoming PSD2 European Directive will also take part in this afternoon. This first FinTech Summit day will end with insights from Talent Route, the first network of Fintech Hubs in the area which connects startups and accelerators from all across the world in order to facilitate access to new markets and international talent. LHoFT will then introduce a round table discussion entitled "For an EU Fintech Strategy: a joined framework to increase competitiveness for European FinTech companies", which will bring together several international experts.
Sustainable Finance
During the second day of ICT Spring, on May 22nd, local and international experts take the stage and explain why financing sustainable projects require an effective public-private cooperation and an alignment of public strategies with the needs of the private sector.
This session will include speakers from LHoFT, a private sector initiative driving technology innovation for Luxembourg's financial services industry, which will also act as Master of Ceremony, and Deloitte, with a talk on "AI for financial services". Among the confirmed speakers are Brett King (Bestselling Author, Speaker, Founder, Radio Host, TV Commentator), a world-renowned expert on all topics associated with the future of banks and businesses, and Douwe Miedema (Editor-in-Chief, Luxembourg Times). Both experts will be included in a round-table covering the topic of sustainable finance and its importance for societies. Anand Rao (Global & US Artificial Intelligence and US Data & Analytics Leader, PwC US) who has coedited four books on Intelligent Agents and has published over fifty papers on Computer Science and Artificial Intelligence, will cover the topic of responsible AI within Finance. In a parallel session, Patrizia Luchetta (Strategic Advisor and Independent Director), Larissa Best (Co-Founder & Director, Equilibre Luxembourg), Anne-Catherine Ries (First advisor to the Government – Media, Telecommunications and Digital Policy, Prime Minister's Office), Assaf Topaz (Horizon 2020 Expert and Jury Member for the European Innovation Council (EIC)-SME, European Commission), Ulf Nehrbass (CEO, Luxembourg Institute of Health) and Michal Michaeli (Entrepreneur & Founder, Eva Ventures) will highlight how to enhance women's role in the Tech industry.
It's All About Money
Over the past years, digital currencies such as bitcoin have caused a financial frenzy. The "value" of all money is unstable and abstract, even in the face of every attempt to secure it, with a set rate of exchange against various assets, or to regulate its flow by setting interest rates.
Paypal, using data encryption and anti-fraud technology to help keep your information secure, and therefore reducing the risk of online fraud, is among the confirmed companies. Jean-Louis Schiltz (Attorney, partner at Schiltz & Schiltz S.A.) will introduce the round table bringing together Marc P. Bernegger (Member of the Board, Crypto Finance), Bernadette Leuzinger (COO, Crypto Fund), David Fauchier (CEO/CIO, Cambrial Capital) and Joram Voelklein (CoFounder, Cryptology Asset Group), who will all share their expertise about money while focusing on crypto assets, which is a type of private financial asset that depends primarily on cryptography and distributed ledger technology as part of their perceived or inherent value.
ICT Spring Gala Dinner: rewarding the best startup from Pitch Your Startup
After an insightful day of conference (May 21st), 600 guests, speakers and ICT top managers will attend the ICT Spring Gala Dinner. This gathering encourages emulation and networking of professionals on a European scale. During the Dinner will be hosted the awards ceremony of the Pitch Your Startup competition, which will reward 4 startups of different verticals: Fin- & RegTech; Artificial Intelligence, Machine Learning & Big Data; Smart Living and Cybersecurity. This event will honor 100,000€ from Docler Holding to the winners.
More information about Pitch Your Startup: www.pitchyourstartup.eu
About ICT Spring
ICT Spring is a Global Tech Conference hosting an array of international professionals. This two-day yearly event is held in Luxembourg City, and offers the participants a unique opportunity to deepen their Digital Knowledge, capture the Value of the fast-growing FinTech Industry, and explore the impact of Space Technologies on Terrestrial Businesses, through exhibitions and demonstrations of the latest Tech Trends and Innovations. ICT Spring is also the perfect place to network with peers and future business partners.
ICT Spring is organized by Farvest Group, the leading marketing & events agency in Luxembourg.
More information & registration: www.ictspring.com
Press Contact
Charlotte Boutelier
+352 26 27 69 26
charlotte.boutelier@farvest.com
ICT Spring
May 21st & 22nd 2019
European Convention Center Luxembourg
4, place de l'Europe
L-1499 Luxembourg-Kirchberg
Twitter: @ICTSpring #ICTSpring
Facebook: www.facebook.com/ICTSpring