E-Commerce Is Growing Fast with the COVID-19 Pandemic and Without It
3 min read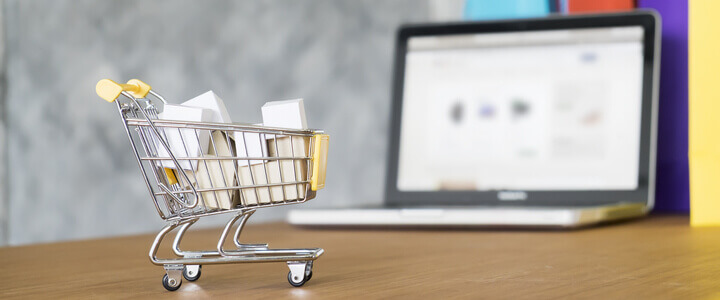 We live in the age of e-commerce. Literally. For all that the COVID-19 crisis is devastating the global economy, online sales are growing at a rate never before seen. And they were doing quite well even before the pandemic.
Online marketplaces are booming with over 2.5 million sellers on Amazon, 2+ million sellers on Alibaba, and mind-boggling 25 million sellers on eBay. But all these sellers, just like anyone who wants to enter the global e-commerce market, face some big challenges. Using the right tech solutions to overcome them can be the determining factor for the success of an online seller.
Two Biggest Problems for Global Online Sellers: Logistics and Money Transfers
The biggest challenges that online sellers face are the logistics of delivering orders and accepting payment for them. There are ways to both transfer money and deliver goods internationally without much trouble today. However, these services are expensive. Therefore, online sellers have no choice but to up their prices to cover the cost of shipping and money transfers.
And those costs are enormous. For example, Amazon alone spends nearly $10 billion on deliveries within a single quarter. In regards to money transfers, every transaction through PayPal or Amazon will cost you between 3.5% and 5% of every transaction. Such costs add up to the point that often makes going global too expensive for small online sellers. But today there are solutions that help with that.
With the COVID-19 pandemic running rampant, the number of online sales has grown enormously. Therefore, every seller should grab this opportunity and go global if they haven't done this yet. The following solutions will make this transition easier.
But one needs to remember that the increase in demand for these services fuels the developers. Therefore, solutions that are the best now may be overtaken by new options fast. One should always monitor the best tech available for the e-commerce industry. Adapting your business as new and more effective versions come out can make a difference for an online seller's success.
3 Companies Offering Unique Currency Solutions to Online Sellers
1. Moneycorp
Moneycorp is a veteran in the industry of online money transfers, which means it's one of the most reliable providers there is. You can easily verify this fact accessing vast data about the company that's easily available online. For an online seller, this level of reliability is crucial as it seriously reduces the risks of accepting international payments. Moreover, Moneycorp offers a multi-currency account with only 0.75% fixed FX margin and no transfer fees.
What sets apart this money transfer solution from the rest is the quality of the customer service provided. The platform itself is also very easy to manage. It's easy to integrate with your online shops regardless of the e-commerce platform you use.
2. WorldFirst
WorldFirst is another online money transfer platform that makes global e-commerce payments much cheaper. It stands out because it's uniquely suited for online sellers due to the fact that it was recently bought by Alibaba's Ant Financial. This multi-currency account allows you to accept payments and hold money in over half a dozen currencies without paying any fees.
WorldFirst currency solutions are designed to easily integrate with online marketplaces. The cost of FX transfers with this company varies depending on the volume of transfers. However, it's one of the lowest in the industry.
3. TransferWise
TransferWise is a young money transfer company but it's already the biggest player in this industry. As such, it's the most popular and widely available platform. Sellers will benefit from the fact that this currency solution has a wider reach. Therefore, it will be easy to start selling to multiple countries. What's more important is that the TransferWise net is growing rapidly.
TransferWise multi-currency account already allows you to hold a balance in 50 currencies. The cost of the transfer is low but varied. However, it's important to note that TransferWise is one of the few companies in the industry that has a very low minimum transfer limit of €1. This allows a lot of flexibility to smaller sellers.
3 Unique Logistics Solutions for Global Online Sellers
1. Zoho Inventory
Zoho Inventory is an e-commerce logistics solution best suited for small and medium online sellers. It makes inventory management easy and stress-free. This app enables you to manage orders and inventory in real time and is compatible with multi-channel selling.
Notably, this app is easy to integrate with top shipping solutions. The app is available for a free trial, so sellers can easily see if this is the kind of solution they need. There's also a handy mobile app available. Therefore, a seller can manage their inventory anywhere and at any time. The app includes a warehouse management feature.
This is a type of OMS (Order Management System) that can be easily integrated with other e-commerce solution you use to build an efficient business ecosystem.
2. BluJay
BluJay is a transportation management tool that's essential for sellers that want to go global. It enables you to manage and track your deliveries in a variety of ways. This includes managing customs. The solution is adaptable, so it can be used by e-commerce businesses of any size. You can easily monitor your whole supply chain with the help of this software.
Note that BluJay doesn't have a free trial version. Sellers will need to contact the provider directly for details on pricing depending on the service package they need. BluJay covers air shipping among its other features.
Considering how important delivery is for customer satisfaction, especially in global e-commerce, using a Transportation Management Solution is a must. This type of app must be able to integrate with your transportation routes specifically. It also must include an alert system so you can be notified of any issues fast.
3. Veeqo
It's easier to list things that Veeqo software cannot do than to list all its valuable features. It's a type of Enterprise Resource Planning solution that essentially manages not only logistics but your online e-commerce business as a whole. It's more diverse than any single inventory and order management solution.
Veeqo, in particular, can be easily integrated into any of the popular online marketplaces or solutions (Shopify, Magento, etc.) It manages inventory and shipping in one go, which reduces the risk of missing some important issue.
Veeqo also doesn't offer a free trial option and the solution is rather expensive. However, as it allows you to avoid using several more targeted solutions, you can save money overall. A mobile version of the app is available to ensure easy store management on the go.
Bottom Line: Optimise Your E-Commerce Strategy for Maximum Output
The e-commerce industry is growing fast right now because of the pandemic. However, even after the coronavirus crisis ends, it will keep growing at a steadier pace. Therefore, it will require better solutions, which will no doubt be introduced. As the situation stands now, logistics and money transfers are a big challenge for global online selling. However, solutions already exist to help resolve issues which make cross-border payments and shipment lengthy and expensive.
Using these cutting-edge solutions, and looking out for new ones, is essential for every seller that wants to succeed. But one should remember to compare all the best solutions to pick not simply the most popular ones but the ones that fit your business best.