1 min read
Where Biddable Media, Affiliate Marketing and Lead Generation Collide.
The intertwining of performance marketing channels is opening up plenty of opportunity for professionals in biddable media – that's paid search, paid social and programmatic advertising – affiliate marketing and lead generation, but is not without its barriers.
Attend PMI: Europe 2016 to discover how to effectively create, reach, monetise and convert audiences through performance marketing channels, delivered via actionable content and peer-to-peer networking.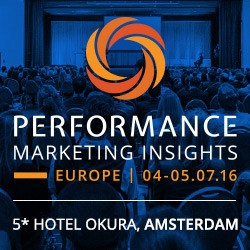 For more information contact:
Sophie Corrigan, Event Manager
sophie.corrigan@performancein.com
Follow PMI Europe on Social Media:
PMI on Facebook
PMI on Twitter
PMI on LinkedIn
PMI on Google+