A Glimpse at the Housing Market Post-Pandemic
3 min read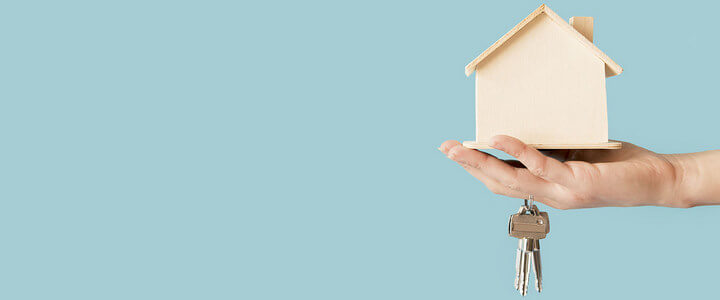 The Centre for Economics and Business Research (CEBR) has shown that during the covid-19 lockdown, the economy has declined by 31%. Some experts are predicting steep declines in the value of houses – knocking off more than £30,000 of the average house price as a long term economic result of the pandemic.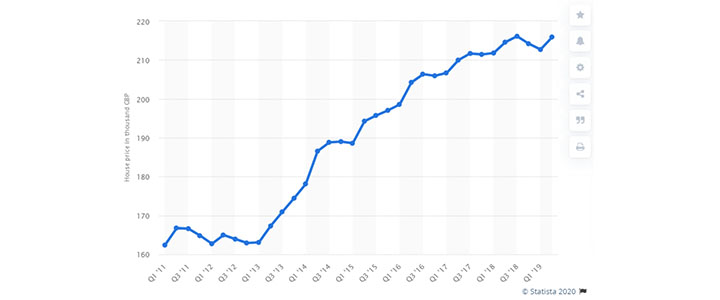 Source (Statista)
The graph clearly shows a steep and strong upwards climb in the housing market between Q1 2011 – Q2 2019. Some might have weeb waiting for a crash, but there's no doubt that the property market, in the UK at least, was in decline.
In fact, estate agent Savills expected property prices to rise by 1% this year but reevaluated to say that princess will fall between 5%-10% depending on how hard the economy is hit. CEBR suggests that the decline will be largely attributable to reduced salaries and wages, coupled with a lack of spending, as well as high degrees of uncertainty.
More economists are anticipating a sharp V-shaped economic downturn with a quick and sharp bounceback. There have been a few factors contributing to keeping housing prices stable- and in some cases, increasing. Some of which are the government's measures to protect incomes and jobs, implement more stringent affordability checks, and reduce interest rates.
In the instance of a V-shaped recovery – a few current trends lend to the possible increase in the value of certain properties. Since the value of properties in city centres are driven by the job market; the pandemic has certainly changed the way we perceive value in a property with regards to its location.
Residential Preferences Post-Pandemic
As more companies embrace remote working, we may be facing the beginning of the demise of commuting. Working from home has forced more employees to reconsider their residential preferences. Small apartments in residential cities, once valued for their convenient locations are expected to be traded in for larger, greener and more family-friendly houses in rural communities.
The pandemic may well have caused a slump in the economy and resultant property prices, but will also cause a structural shift in the way we perceive our built communities. An expansion in the commuter belt might be expected since workers will initially work less frequently in the city; making less frequent longer commutes more tolerable.
The Surge in Lockdown Renovation
During the lockdown period, more and more people took up the opportunity to renovate, restore and improve their homes. Across the country, interiors and exterior of thousands of homes have been improved – bumping up their market value.
Most people would have finally gotten round to fixing things like the dripping taps, broken lightbulbs and poorly fitted laminate flooring. These easy fixes, like peeling paint and cleaning mould – are quick ways to combat the external forces driving property value down.
Bigger fixes like changing doors, updating the bathroom and refitting the kitchen often require time as well as money. Across the country, people had time, in abundance, on their hands. The lockdown period simply motivated people to take on some of these larger jobs.
Those with gardens will know all too well the time, energy and money they demand from their owners. Whilst tackling the pandemic, we've also had our fair share of sunshine and a reason to get back to gardening. An attractive, well-designed garden can add a great deal of value to a property.
With more people leaving the city in search of larger, greener pastures – gardens will be widely sought after. The new demographic of buyers and renters post-pandemic will be looking for value for money but most importantly, space. An area of decking creates a sense of having a larger living space – which can be used to work, play or entertain.
Investment Opportunities Post-Pandemic
It's difficult to make economic forecasts on a good day – let alone amidst a pandemic. The fact is, no one can be completely sure of what's going to happen. The uncertainty has caused many investors to take a step back, reel in the cash and wait for things to settle down. As things get closer to pre-pandemic level activity, these investors will be ready to bounce back with more enthusiasm.
The impact of the pandemic on the housing market will be dependant on the length and severity of the outbreak. Managing director at the Halifax, Russell Galley, mentioned that the UK housing market has remained steady heading into spring 2020. The sustained level of buyer-seller activity is strong, and competitive mortgage markets continue to support demand.
It's a waiting game – but we might anticipate a surge in holiday let mortgages, as a way to secure a second income. Particularly since holidays abroad are predicted to slump, and 'stay-cations' – that is staying in the UK for holidays – will become increasingly popular amongst families.
The house flipping scene is also likely to experience a deeper interest. Derelict country houses and do-er-uppers in the suburbs of cities will be snatched up by those looking to make a quick buck- or thousands. With demand for the outskirts forecast to rise and investors sitting on cash; it appears to be a sound investment strategy.
What This Means for the Market
With residential preferences shifting as a result of the pandemic's effects on businesses, combined with the surge in lockdown renovation, can we anticipate a certain rise in the value of properties outside of the populous cities? What's to be said of the London property market? It's unlikely that London, in particular, will lose its appeal for young professionals and even some families.
Whilst we can expect an increase in the demand for (and so the value of) rural residential properties, we mustn't be too quick to depress the value of those in London. London property prices, much like other large capital cities in the world, are driven in part by foreign investment. Perhaps the effects of the pandemic on foreign property investment will play out differently.