Social Media Marketing Trends 2016 (Infographic)
1 min read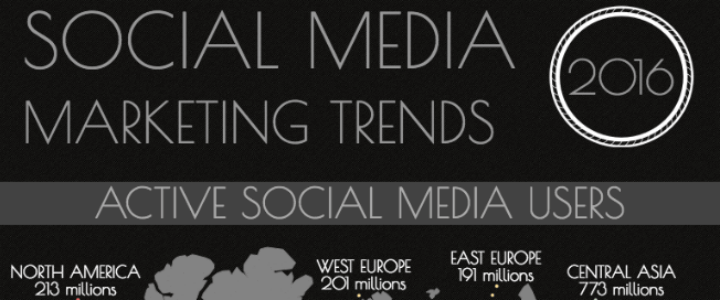 How Do Marketers and Users Behave on Social Media?
Social media is everywhere. Every second, thousands of posts, tweets and pictures are shared within the virtual community. Individuals play the leading role, but companies also do their part by regularly posting on their social media profiles.
In this regard, it must be said that not every business is implementing marketing strategies on social networks. Nevertheless, there is evidence that social marketing can benefit and yield positive outcomes for companies when a part of mainstream E-Business tactics.
When identifying a target audience, it is important to get an overview of frequency and popularity of every social media platform. In addition, gaining an insight of consumers' use and engagement can help define a more focused behavioural baseline.
Among the relevant data, it is also good to consider that 46% of the global population accesses to the Internet on a regular basis. At the same time, it is impossible to neglect the annual and steady growth in the use of mobile phones to connect to the web.
Since 2015, the number of active mobile social users has increased by 17% and the amount promises to continue to rise year after year. Hence the importance of having a mobile-friendly and easy-to-use website or a well-functioning app.
Another significant fact is that some social networks are raising more rapidly than others: Pinterest, Tumblr and Instagram are exploited more and more for marketing purposes. Despite this, Facebook remains the social media with the highest percentage of user accounts and active users.
Statistics show that 70% of the social media users are aged between 16 and 34. A data that will remarkably change in the upcoming years, as social media will be integrated part of everyone's everyday life.
This infographic, created by Market Inspector, gives further information about the behaviour of marketers and users on social media.